Cloud Based Shoe Repair Management System
Cloud Based Hosting Per Month
Price: $27.00
BUY
Professional Edition Per Station/Month
Price: $45.00
BUY
Enterprise Edition Per Station/Month
Price: $60.00
BUY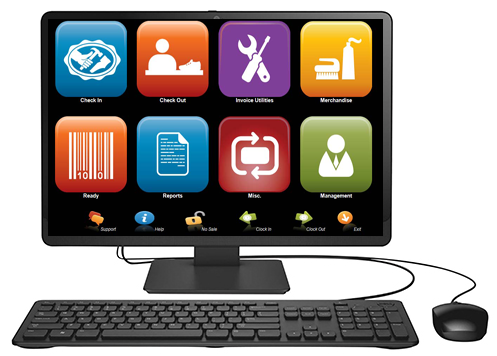 ---
A special edition of CSI POS is called Shoe Repair Management System (SMS)..
SMS is the most complete Shoe Repair Management Software on the market with functionality and ease of use that is unmatched by any other products. Our SMS is used worldwide and available in English, French, Spanish and Dutch interface. Use our on-demand barcoded Repair Labels to track each order and notify the customer by SMS or email as soon as the order is ready for pickup.
Controlling the inventory is one of the most important part of any Shoe Repair business. SMS provides a different inventory control system to prevent employee theft and provide better customer service.
Shoe Repair Labels are printed on Dymo 450 printer to track shoe repairs.
CSI SQL database cloud hosting service offers an effective way to run your business better than ever before. We protect your valuable data from natural disasters, fire, and theft. In addition, CSI hosting gives you peace of mind from the complexities of managing and maintaining your computers and data. Your focus should be on running your business and not managing your computer system!
As a Microsoft SQL Database Expert and Microsoft Certified Partner, CSI understands your SQL database better than anyone else and knows server hosting requirements. Our experienced Microsoft developers design scalable hosting solutions that grow with your SQL database ensuring maximum performance and availability. We maintain, and backup your database using the latest technology. We use Microsoft SQL 2012 R2 on Windows 2012 Servers.
To ensure the complete integrity of our hosted database, we've placed our servers in a secure Tier 3 cloud hosting facility and Network Operations Center using the latest, most advanced construction techniques. Electronic authentication and access control system assures physical security, and a state-of-the-art video surveillance system, staffed 24/7/365 and digitally archived, monitors the center continuously. Equipped with a Dual Uninterrupted Power Supply battery, the center also offers a host of other features designed to protect your assets at all costs. Cloud and Managed Hosting solutions from OnX empower our clients to improve availability, performance and reliability of the critical infrastructure and applications that drive their business and power their bottom line. Onx top tier facilities adhere to ITIL best practices and hold SSAE16 certifications enabling our clients to meet the most stringent of data security and compliance regulations including PCI DSS and HIPAA, among others. Click below to view our data center facility. www.onx.com
One time setup fee of $350 applies that includes software, printers installation and price list setup. No contract.
Click here to view our Cloud Based Editions Comparison chart
To use Cloud Based we require minimum 2MB upload/download speed.
Click here to check your internet speed, select NY for site test.