Computer Tags 3" Rolls
Computer Tags 3" Rolls
Price: $$See Cleaner Supply prices
BUY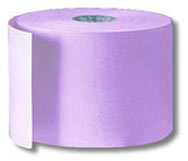 ---
For use with TMS to print garment tags. The excellent quality wet-strength paper withstands the cleaning process. These tags come in 10 different colors and stripes.
Used with Epson TMU220 Impact Auto Cutter Printer. The rolls are more economical tags than continues perforated tags. Print tags in 1" for Dry Cleaning and 1/2" for laundry or print in 1/2" size format for all garments.
3" wide, 100 feet per roll, 10 rolls per case.
The sample below shows 2 invoices, Invoice# 190, with 3 Dryclean and 3 Laundry items, and invoice# 192 with 2 Dryclean and 1 Laundry items. Please note The customer's name on the laundry tag may get cut some times and there is always 1" blank tag between each invoice. This is due to the fact that the printer cutter is 1" above the printer head, therefore unable to roll back the paper more than 1" above the printer head.