Pre-printed Garment Tracking Tags
Total of 100,000 Labels
Price: $2400.00
BUY
Total of 50,000 Lables
Price: $1350.00
BUY
Total of 25,000 Lables
Price: $725.00
BUY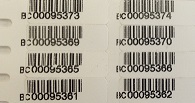 ---
Pre-printed Garment Tracking Tags are used for Auto Assembly System. The most popular and versatile garment identification product is our HIQ White, 4 Tabs 1/4" x 3/4" label. Labels are printed in-house with quick turnaround to process customized orders. Barcode symbology is Interleaved 2 of 5 , 8 digits with optional Human Readable one alphabet char to identify the store (e.g D 10003000) .
It is a heat-activated white nylon material, and customers have discovered that it works well in both dry cleaning and laundry applications. Tags withstands repeated dry cleaning and laundry cycles. It stays on the garment and it remains scanable.
Prices per 1000 labels vary for 25,000, 50,000, 100,000, 200,000 and 500,000 set of labels. Order larger qty to save money.
Thermopatch Heat-Seal Labels
Thermopatch Heat-Seal Labels
Price: $295.00
BUY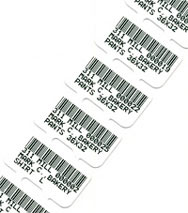 ---
Tracking Tag used for Garment Tracking printed on demand using Zebra TLP 2844 Label Printer
Thermopatch Heat-Seal Labels TT5812-01H 5/8" x 1 ¼" 4 x 25 YDS, RD0425-15Z - Ink for Dryclean and Laundry White
Motorola MC3190-Z Handheld RFID Reader
Motorola MC3190-Z Handheld RFID Reader
Price: $2700
BUY

---
Motorola MC3190-Z Handheld RFID Reader is Motorola's signature rugged design and dual data capture functionality deliver superior value
The Motorola MC3190-Z is a business-class handheld RFID reader designed specifically to extend the benefits of RFID beyond industrial spaces and into customer-facing and business environments. It starts with the signature rugged design and high performance that Motorola industrial handhelds are known for, and adds an advanced, high efficiency Motorola RFID reader engine for faster read rates and higher throughput. Add a groundbreaking new orientation-insensitive antenna tuned for European-centric use cases and the result is a highly versatile device that is at home in customer-facing environments - from retail stores and health care facilities to the office. MC3190-Z for US-based frequencies will be available Q2 2011.