Cleantie Subscription Plans
Cleantie Premium Edition Per Month
Price: $45.00
BUY
Cleantie Professional Edition Per Month
Price: $60.00
BUY
Cleantie Enterprise Edition Per Month
Price: $150.00
BUY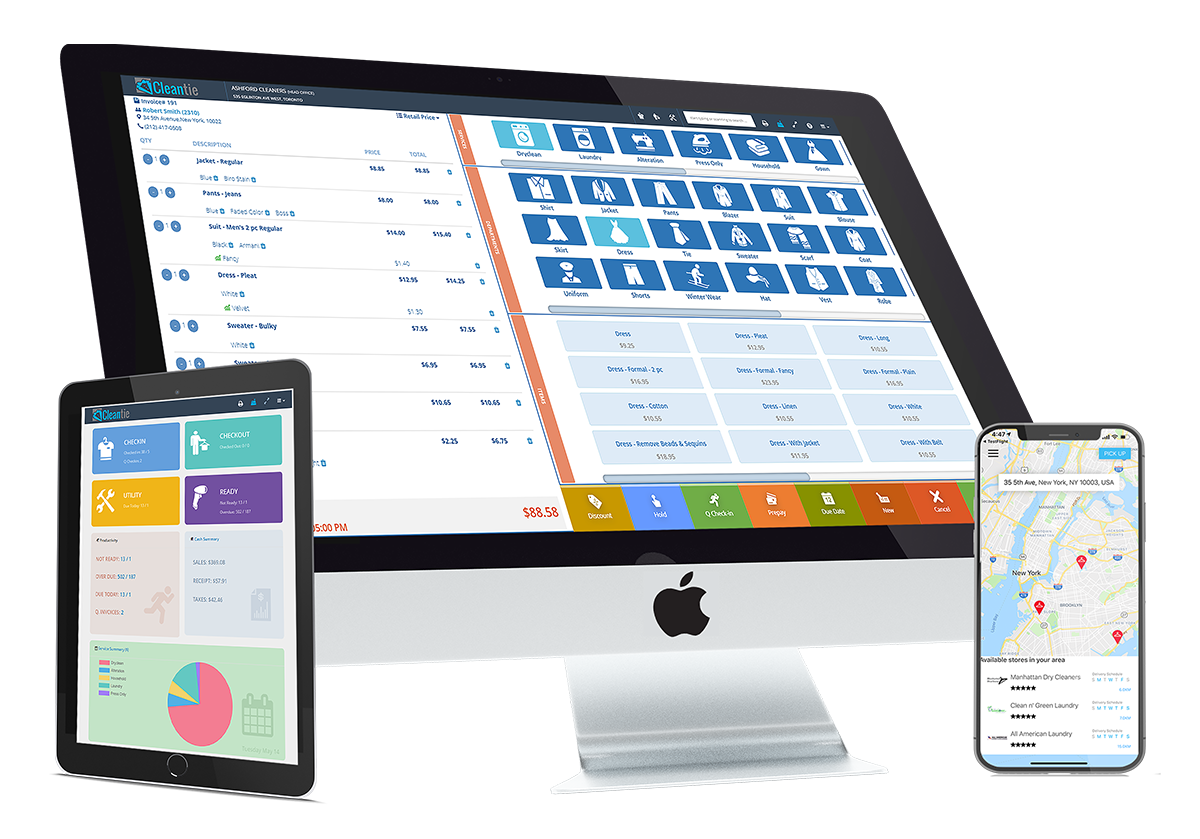 ---
Cleantie Cloud Based POS is the latest product from Computer Systems Int'l (CSI). Cleantie is modernizing today's dry cleaning, laundromat, cloathing alteration and shoe repair business. Cleantie platform includes Cleantie POS app, Cleantie/Cleantie+ Customer App, Cleantie Driver App and Cleantie Promo App, all designed to empower the operating cycle of your business.
Our Cleantie POS is fast with intuitive design for modern businesses. It's easy for anyone to use as it works across PC, tablet, and smartphone devices. Cleantie's best-in-class product and tracking system with powerful reporting insights help you make smarter decisions that profit businesses of any size. Cleantie offers the best, and latest technology for your business to empower customers.
Click here to read more about Cleantie POS app.
Free Cleantie and Cleantie+ customer app allows your customers to request on demand pickup/delivery. Cleantie is North America's fastest-growing — Dry Cleaning, Laundry, Clothing Alterations & Shoe Repair Pickup/Delivery App, using technology to make your life easier so you have more time to get back to your busy life. Through the Cleantie network, 5000+ partners gain more business, and busy customers get the best, the most convenient, high-quality pickup and delivery experience.
Click here to read more about Cleantie customer app..
Cleantie Driver app offers a complete and comprehensive route planning system with an optimization technology. Cut down on operating costs, reduce drive time & mileage, and improve customer service with Cleantie route planning solution. Identify the shortest, fastest, and most efficient routes within minutes and take the headache out of route planning & scheduling. Cleantie interactive manifest uses the real-time Route Manager to provide you with step by step delivery instructions. Delivery drivers can save time and fuel with up-to-date information on traffic conditions, distances between points, and estimated travel times.
Click here to read more about Cleantie Driver app..