EzPress Heat Seal Machine
EzPress Heat Seal Machine
Price: $895.00
BUY
PopUpPress Auto
Price: $1295.00
BUY
PopUpPress Auto 230V
Price: $1395.00
BUY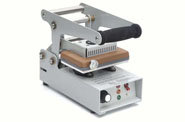 ---
EzPress® / PopUpPress® apply labels & patches in 7 seconds Apply barcode & text labels from all manufacturers TrackIt™, EzLabels™, Computype, Thermopatch. • Automatic fabric thickness adjustment Lower Platen automatically adjusts for thick and thin garments. Label a silk blouse then a winter coat with no adjustments. • Reliable – one year warranty One-year factory warranty and 30-day money back guarantee, over 7,500 EzPresses & PopUpPresses in use since 1989.
The PopUp Press® handle and heated platen will automatically pop up when the application cycle is complete. The EzPress® is a manual press. A buzzer will sound when the application cycle is complete and the operator must immediately lift the handle to remove the hot platen from the garment.
The EzPress® and PopUpPress® are simple and easy to operate. The time, temperature and pressure are automatically controlled. The handle is very easy to operate even though the platen has 150 pounds of pressure. The heated platen is Teflon coated to prevent glue accumulation. The spring-loaded lower platen will accommodate thick and thin garments without re-adjusting the platen. The heated platen opens wide to provide a clear work area on the lower platen. EzPresses® and PopUpPresses® have been used by thousands of drycleaners, commercial laundries, nursing homes, prisons, casinos, amusement parks and costume rental companies since 1988
Warranty
One year warranty all parts & labor, 30-day money back guarantee.
Specifications
power: 125 VAC 50/60 Hertz 100 watts (230 VAC optional) no compressed air required