iAssemble CSI Auto Assembly System
iAssemble
Price: $3700.00
BUY
iAssemble additional client License
Price: $1875.00
BUY
Onsite Installation Per day
Price: $500.00
BUY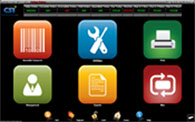 ---
iAssemble is an Assembly Assisted Application based on the latest Microsoft technology running on Windows 10 64bit.
iAssemble provides efficient, automated order processing using your existing conveyor/racks, thus eliminating the need for manually matching each garment with the corresponding invoice. iAssemble has the following advantages over manual assembly:
Improved customer service by increasing order accuracy, thus eliminating customer complaints
Reduce cost
Increase profitability
Reduction in human error thus reducing the likelihood of misfiled garments
Improve productivity
Requires a small assembly space
Assembly Process
1. As tracking tag barcode is scanned, iAssemble automatically assigns a hook number on the conveyor/rack to the invoice.
2. The operator hangs the garment on the hook and then scans the barcode on the hook to verify the location. If the hook number matches the designated location, the system allows the next garment to be scanned.
3. The above process is repeated for each garment.
4. Once the final garment of an invoice is scanned, iAssemble recognizes the order is ready, then informs the operator that order is complete.
5. The operator unloads the order. As order is unloaded and removed from the conveyor/rack, the corresponding invoice is automatically printed
6. The order is now ready for bagging
Summary of features:
Windows 10, 64Bit Application using TMS SQL database.
Assemble over 350 pieces per hour.
Very user friendly, large Touch screen Icons.
Build-in Hanging Sensor to confirm assembly.
Build-in Blue Led to show Hanging Status.
Hold/un-hold order option.
Complete order option.
Live running total of pieces/orders due/overdue
Live Running total of incomplete orders
Live running total of incoming orders.
Option to Split incomplete orders.
Different Assembly Conveyor Length option, 10', 15'.
Sophisticated graphical production Crystal base report.
Direct link to TMS database for much better reporting.
Advance Search function to view garment history.
Multi stores printing option with multi printers.
Separate Delivery/Route Invoice Printing feature.
Supported by the use of both a conveyor or rack.
In order to use iAssemble, TMS has to be upgraded to Garment Tracking Software (GTS).
Additional iAssemble Client License is required for each additional assembly conveyor/rack, or lookup. Optional Onsite installation is charged per day, and does not include travel expenses.
Click Here to see the article in Fabricare on Auto Assembly System.