Weigh-Tronix by Avery Berkel Digital Scale
Model 7885-150lb/60kg, 18 "x 18"
Price: $955.00
BUY
UGREEN USB to DB9 RS232 Cable Converter B06VVTNJD8
Price: $35.00
BUY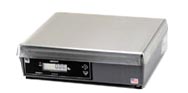 ---
Brecknell Digital Scale is designed for use in Laundromat operations. Save time and money by using our integrated digital scale.
Weight your wash & fold laundry bags automatically, quickly with accuracy.
Please note this scale may not be legal to use in some US States, please check with your local Office of Weights & Measures.