Uniform Management System
Uniform Management System
Price: $Call
BUY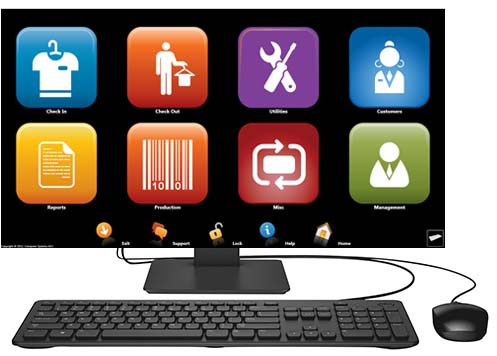 ---
Our CSI Uniform Management System (UMS) is designed to manage all aspects of employee uniform processing and tracking. It is specifically designed to automate uniform room operations in hotels, casinos and hospitals. Uniforms can be identified using UHF-RFID tags, on-demand printed barcoded garment tracking tags, or pre-printed barcoded tags. With UHF-RFID tags, the UMS communicates directly with RFID readers that automatically scan uniforms as they pass through the radio frequency field generated by the antennas. Manual scanning is eliminated for most daily activities performed in the uniform room. All daily processing activities are accelerated with UMS and human error is significantly reduced or eliminated.
UMS is integrated with our CSI iAssemble Auto Assembly Software and PACLINE's Uniform Conveyor System to save you time and money with substantial reductions in operating expenses and labor costs.
PACLINE's automated uniform distribution system offer an excellent uniform delivery system that maximizes storage capacity of hanging garments. PACLINE utilizes an enclosed track overhead conveyor design to take advantage of the unused space above a person's normal reach for storage and eliminates the need for access aisles, except at a desired location for loading or unloading. PACLINE's system can be designed to meet various levels of automation based on your particular needs and budget.

-- Assignment of uniforms, lockers and conveyor slots to employees
-- Uniform wash history and tracking.
-- Uniform life cycle reporting to evaluate brand durability.
-- Uniform automatic put away
-- Employee loss of uniform
-- Manages all cleaning/repair activities; and cleaning turnaround time
-- Improves uniform room productivity and dramatically reduces human error
-- Daily drop-off or pickup of uniforms, including loaners
-- Monitors uniforms return at the end of the shift
Click here to watch PACLINE Automated Uniform Distribution Conveyor System.