Customer Pole Display
Customer Pole Display
Price: $265.00
BUY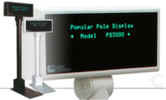 ---
Enhance the security of your system and customer service with our integrated Customer Display Pole.
Logic Control PD3000 is widely known as the market leading pole display for PC-based POS systems. It has long set the standard for reliability, value and functionality
Pole Display used with TMS to give your customer a quick feed back on their balance and method of payment. It also servers as a theft prevention tool to make sure your staff are processing transactions properly and accurately.